They are quick and easy to prepare, it is also a very versatile dish, open to all kinds of variations and adjustments and they will always be delicious. They accept all kinds of vegetablesthat we like best or that we have in the fridge and we can improvise a delicious stew like our grandmothers used to do. Of course we can cook them in a slow cooker or in a food processor, although I'm an old man and continue to cook them the traditional way and over low heat.
Although they are more winter dishes, the temperature in the north allows us to eat spoon dishes all year round and they are ideal for those rainy summer days that we have. It is also a good alternative to the typical lentils with chorizo.
@pandebroa.by.monikaprego
Recipe Information
preparation time: 20 minutes

cooking time: 40 minutes

total time: 1 hour

portions: 4

category: Main dish

type of cuisine: Spanish

calories: 260 kcal per serving
Ingredients of the lentils with vegetables for 4 people
1 liter of meat broth

250 g Pardina lentils

1/4 onion

¼ green pepper

¼ red pepper

¼ yellow pepper

¼ leek

A piece of celery (about 15 g)

3 carrots

1 natural crushed tomato

2 peppers

1 bay leaf

salt and pepper to taste

3 tablespoons olive oil

cayenne pepper (optional)

1 garlic (optional)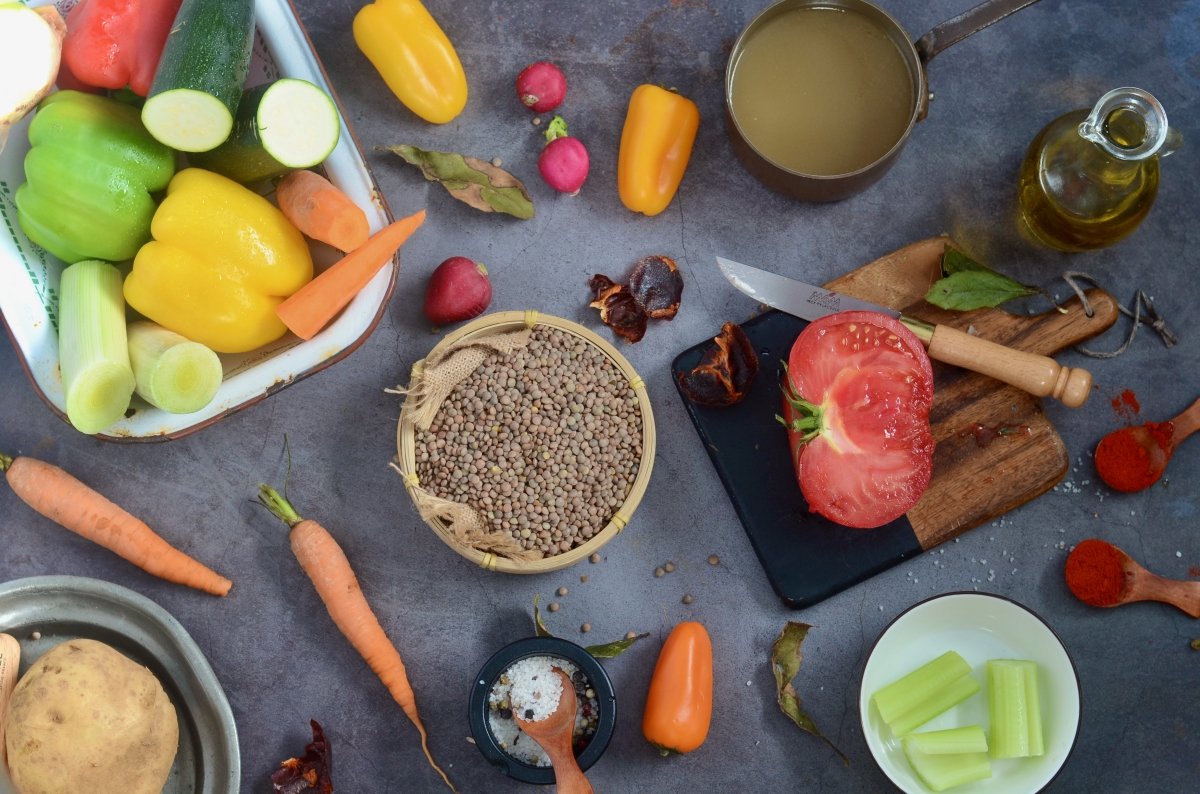 @pandebroa.by.monikaprego
How to make lentils with vegetables
As always, we weigh and measure the ingredients and bring the bouillon to a boil if we have prepared it beforehand. We wash the lentils well and put them in water to soak them a little while we cut the vegetables. I used Pardina lentils for the recipe and I don't soak this little lentil in water as long as I do the rest of the legumes.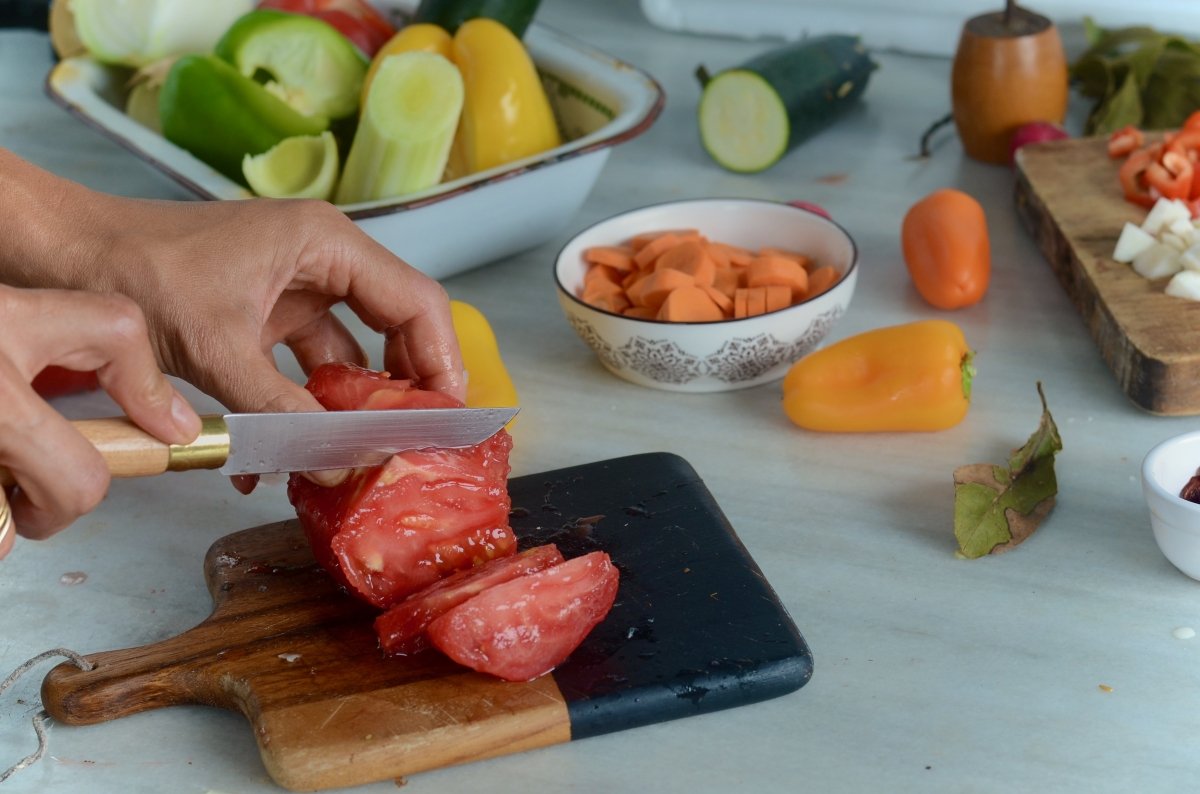 @pandebroa.by.monikaprego
We start by finely chopping and reserving the veggies. Separately, we brew the lentils, and for this we put them in a saucepan, cover with water and bring closer to the fire. When it boils, drain them well and keep them. We can skip this step, but I like doing it so they won't be so dark later.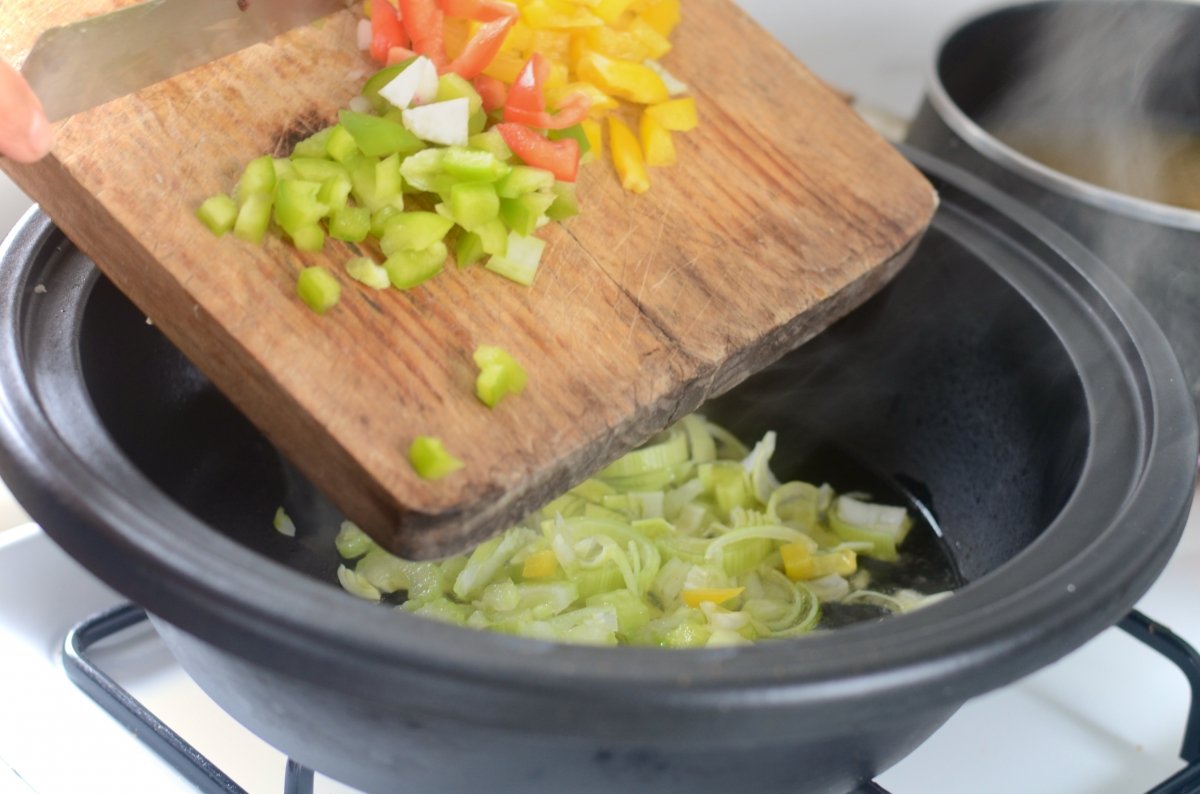 @pandebroa.by.monikaprego
Put the pan on the fire with a dash of oil and sauté the vegetables for about 5 minutes, being careful not to burn them.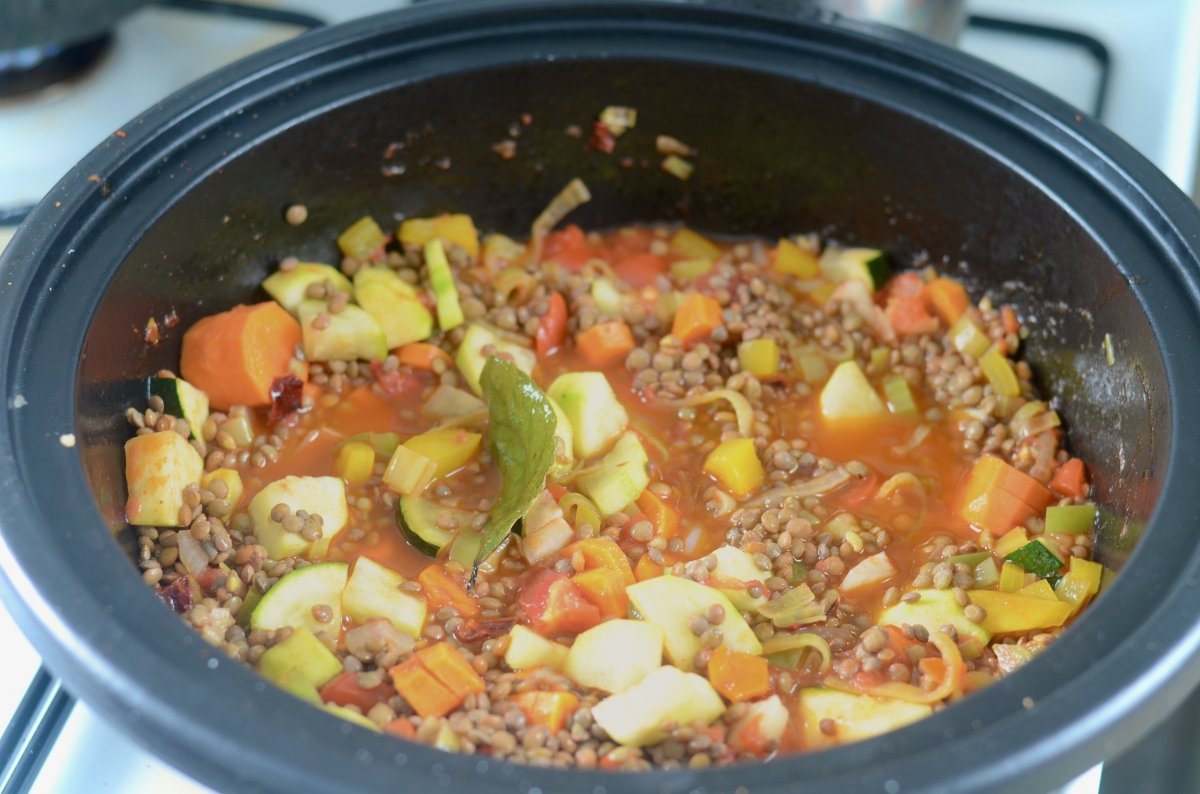 @pandebroa.by.monikaprego
Next we add the tomato, the Ñora and the bay leaf and finally we add the well drained lentils. With a wooden spoon we remove everything and let them soak well for a few minutes.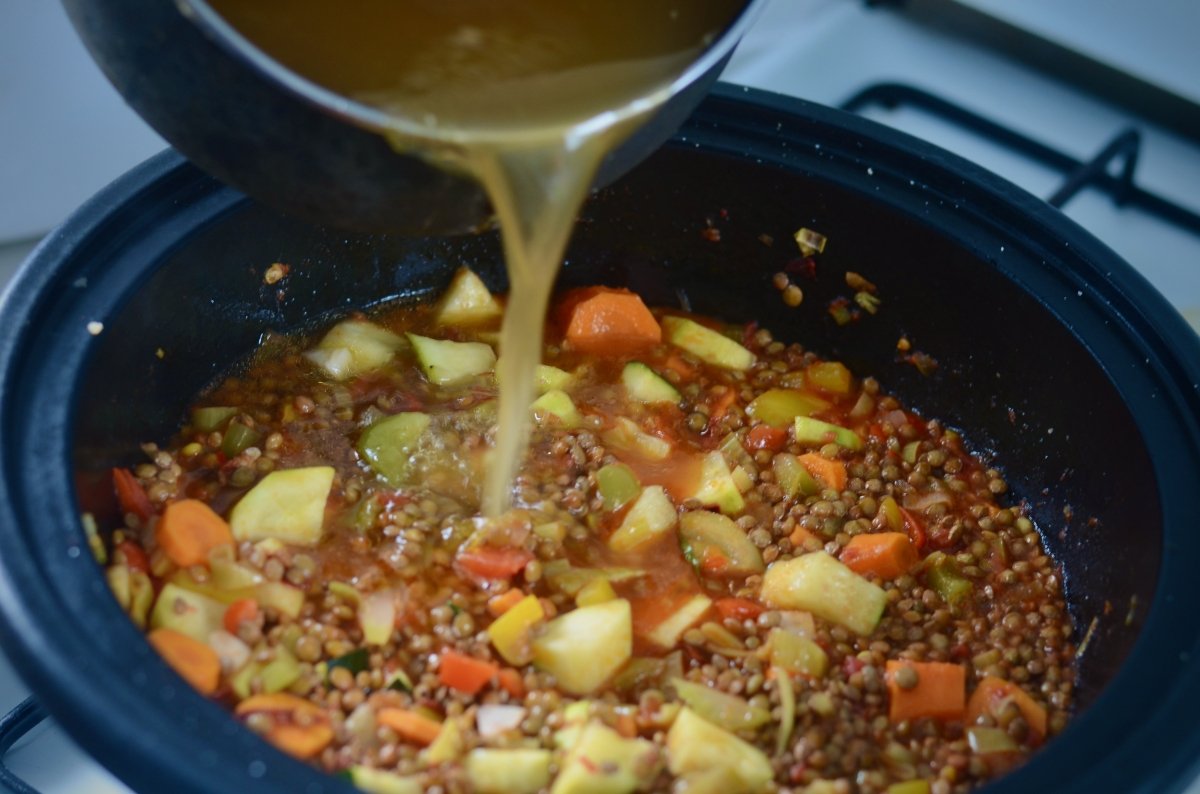 @pandebroa.by.monikaprego
We add the boiling broth, season to taste and cover so they cook over medium heat for about 40 minutes.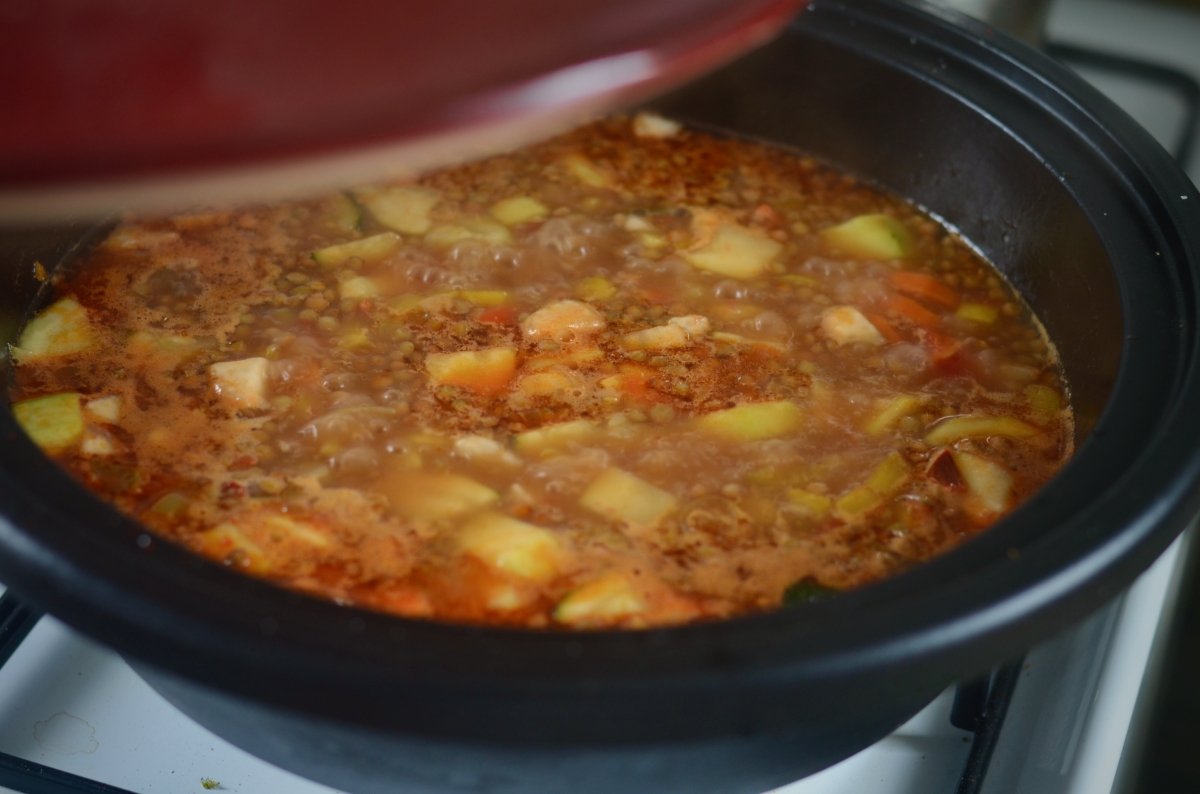 @pandebroa.by.monikaprego
We check from time to time that they are not running out of water and move the pot a little so that they don't stick to the bottom. If we see that they are too dry or if we like them more soupy, we can add a little more hot broth that we reserved. After the time we taste them and when they are to the desired degree of doneness we set them aside and let them rest for about 10 minutes before serving.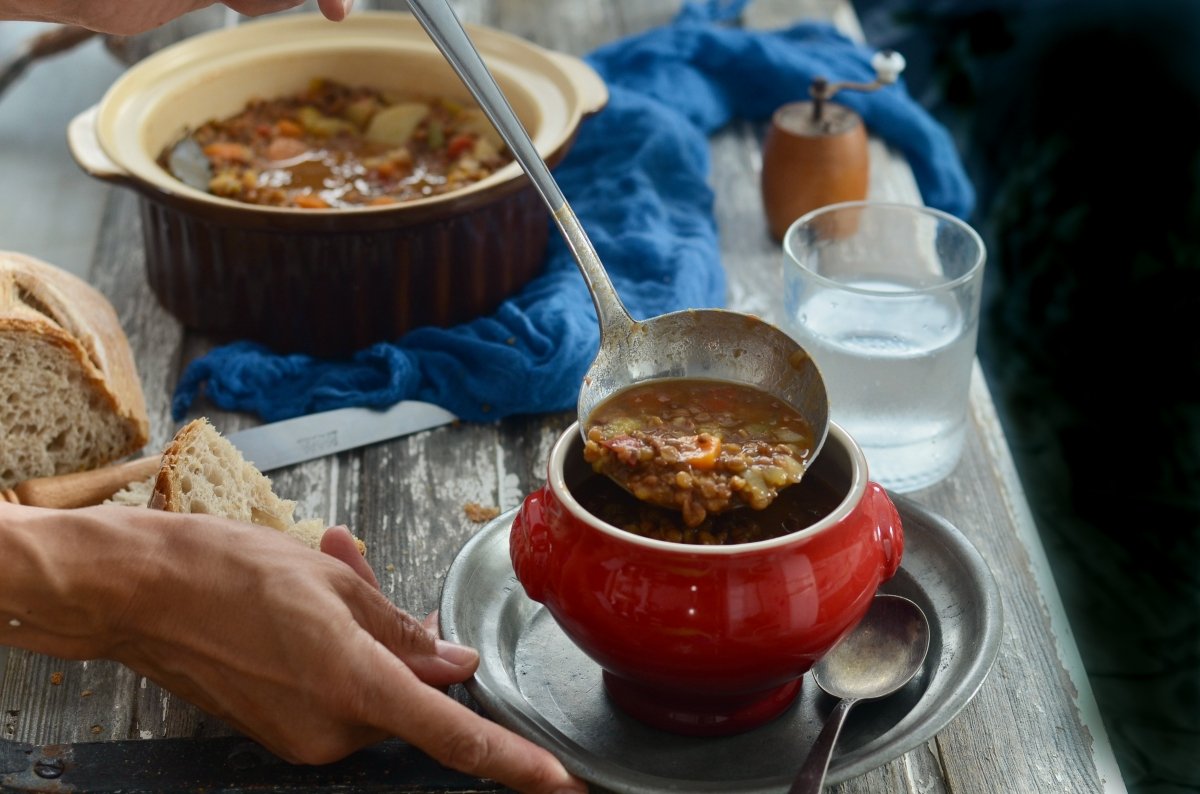 monica.prego.f@gmail.com
A trompe-l'oeil for those of us who have kids and avoid protests over veggies is to mash them up before adding the lentils and we're left with a kind of thick puree. Add the lentils and continue the process in the same way. We can also add chopped boiled egg if we want to make a more complete dish and it would serve as the main meal.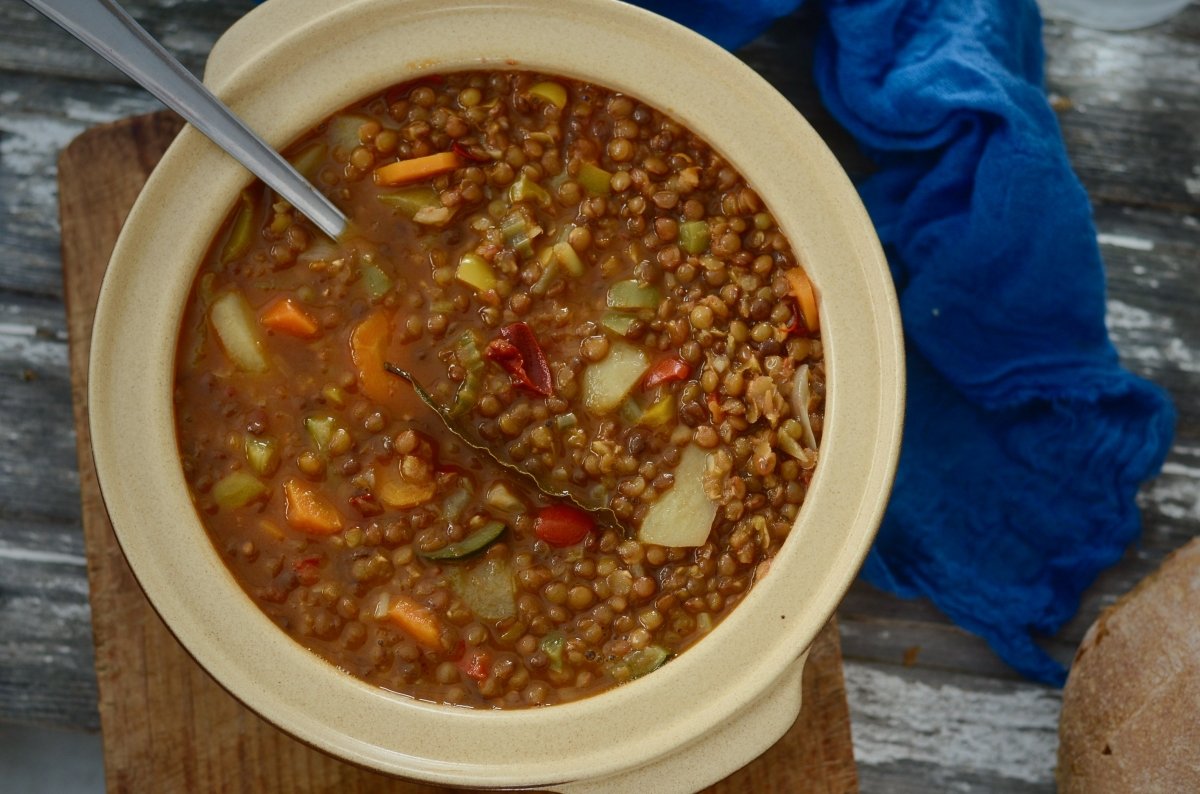 @pandebroa.by.monikaprego
Simple preparation overview
We prepare all the ingredients, wash the lentils and leave them in water while we cut the vegetables

Wash and cut the vegetables

Blanch and drain the lentils

Put some olive oil in a saucepan, add the vegetables and sauté

Add the peeled and chopped tomato, bay leaf and Ñora and stir

We add the lentils and mix them well and let them integrate and finally we add the broth that we are going to cook

Cover and cook on low heat for about 40 minutes. This time is relative, since it depends on the type of lentils and our taste

Add a little more broth if we see that they are too dry