Make room in your winter recipe book for this curry lentil cream. If you are a cream lover, you will love it. If you're a fan of exotic flavors you'll love it and if you value the nutritional value of legumes, this is definitely your recipe. And it is that lentils, one of the most consumed legumes around the world, help our body be healthy because of all the nutrients it provides us with. Even if you are a person with iron deficiency in your body, this is undoubtedly the best legume to consume. Lentils should therefore not be missing from an absolutely balanced diet. But we can't forget the curry. The curry mix generally contains many spices such as celery, saffron, cumin, coriander, turmeric, mustard, ginger, pepper… This mix gives a very strong and slightly spicy flavor to all the dishes it is used for. We add.
As an accompaniment to our curry lentil cream, we have several options. For example we can accompany it with bread croutons that we can make at home. A few diced ham or chorizo, lightly passed through the pan, is also an excellent option. Whatever the case, you will surely enjoy an exceptional dish full of nuances with every bite.
Recipe Information
preparation time: 10 mins

cooking time: 20 minutes

total time: 30 minutes

portions: 4

category: Main dish

type of cuisine: International

calories: 187 kcal per 100 g
Ingredients for the curry lentil cream for 4 people
4 cloves of garlic

1 onion

1 leek

1 green pepper

1 red pepper

1 carrot

3 potatoes (approx. 450 g)

1 bay leaf

600 ml vegetable broth

750 g cooked Pardina lentils

1 tablespoon curry

EVOO

Salt

pepper
How to make curry lentil cream
We prepare all the ingredients of our recipe. Chop the onion, leek, garlic, red and green peppers and carrot. All in medium sized squares so they sear well.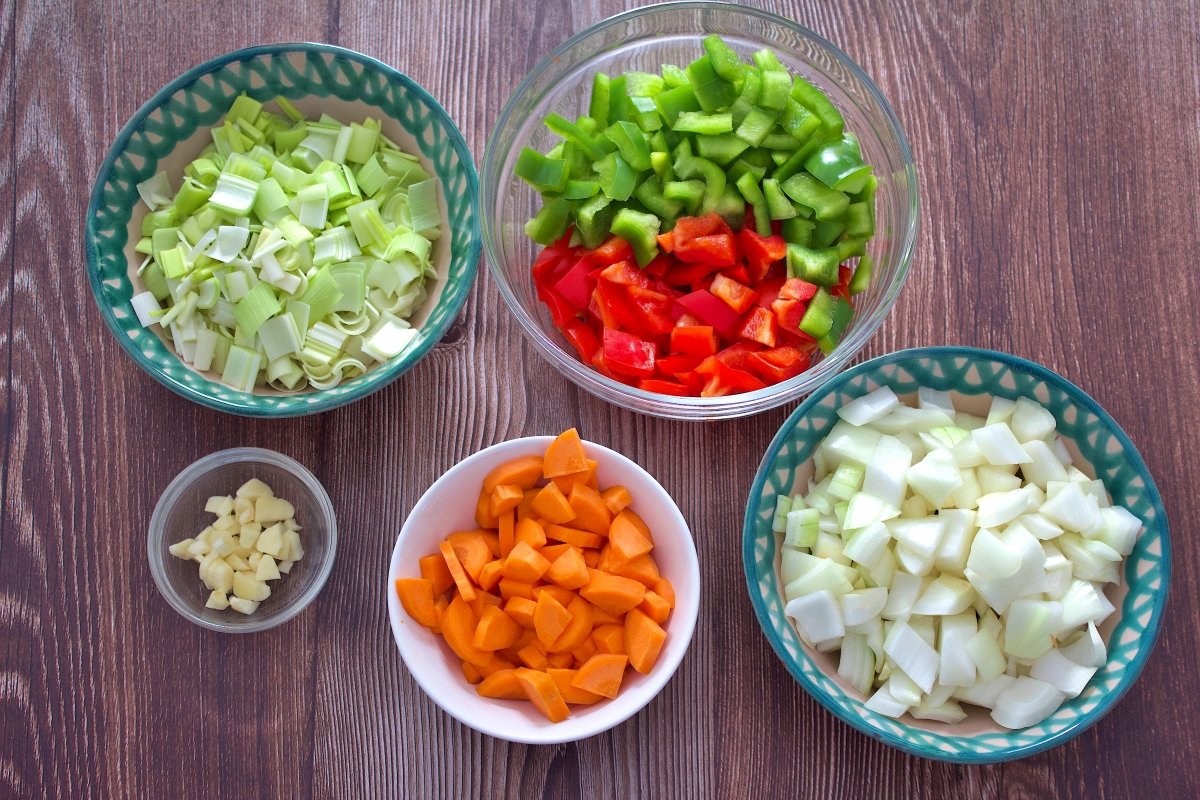 Put a few tablespoons of EVOO in a saucepan and first sauté the chopped onion, garlic and leeks.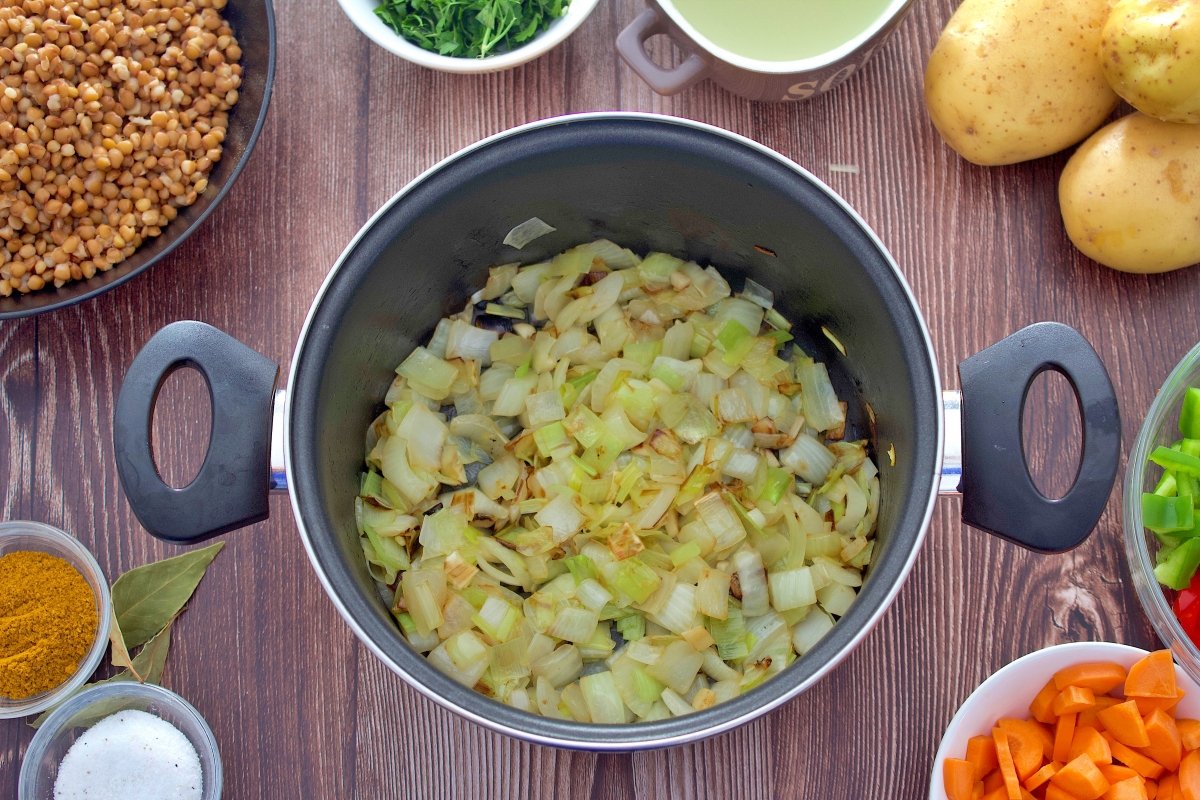 When these are lightly golden, add the peppers and carrot to the pot again to cook together over medium-high heat.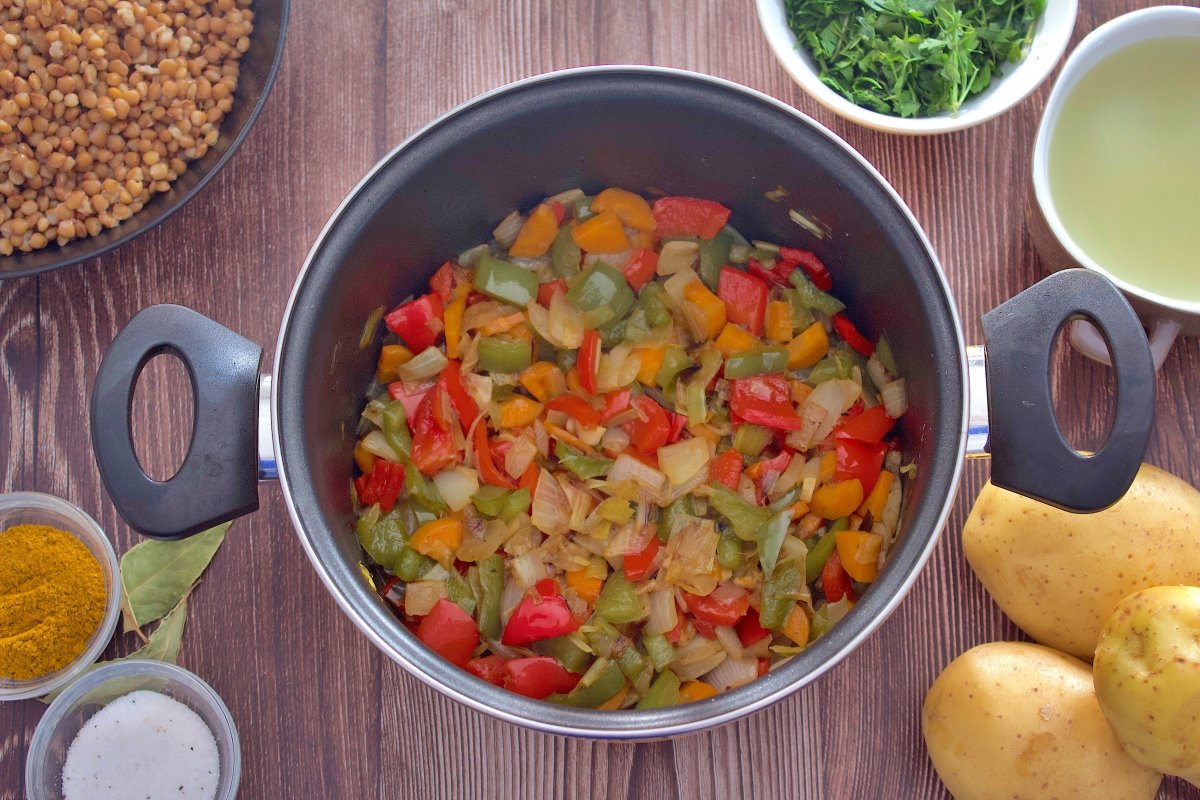 When ready, add bay leaf and curry and stir until toasted, about 3 minutes.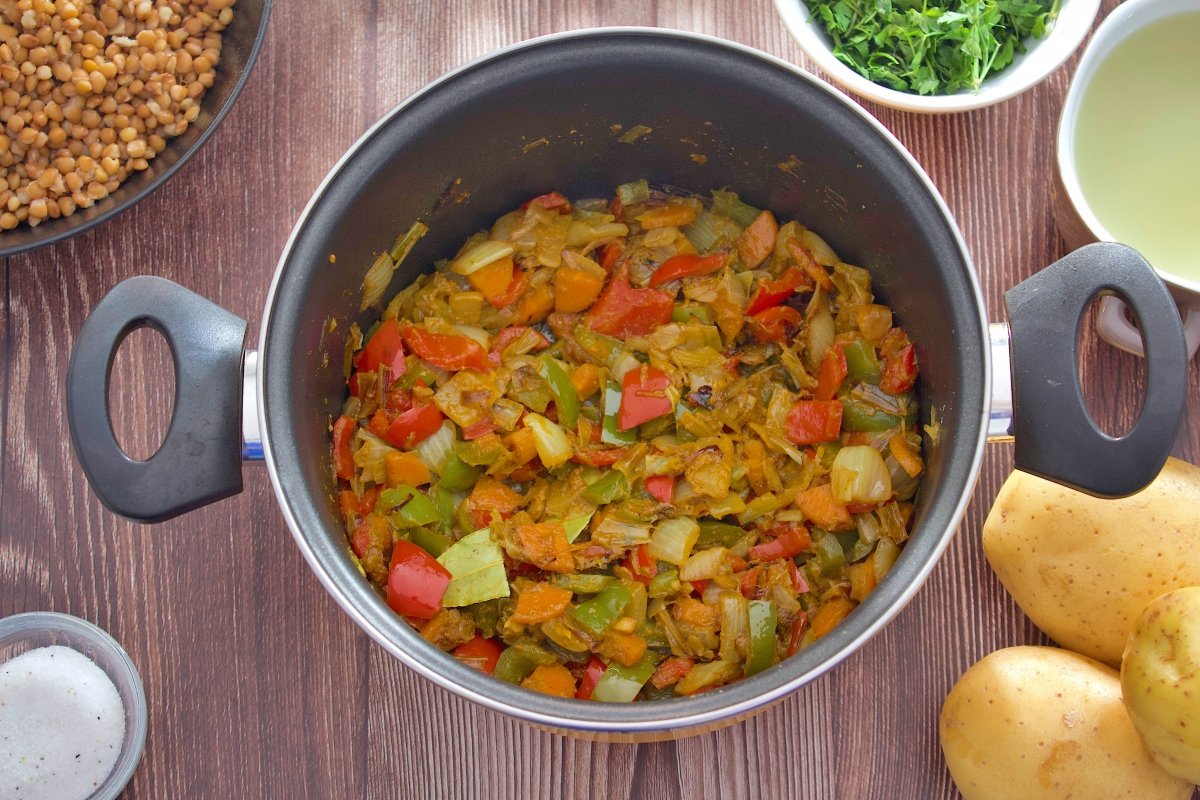 Now add lentils, potatoes and vegetable broth. We cook for 10 minutes or until we see that the potato is done.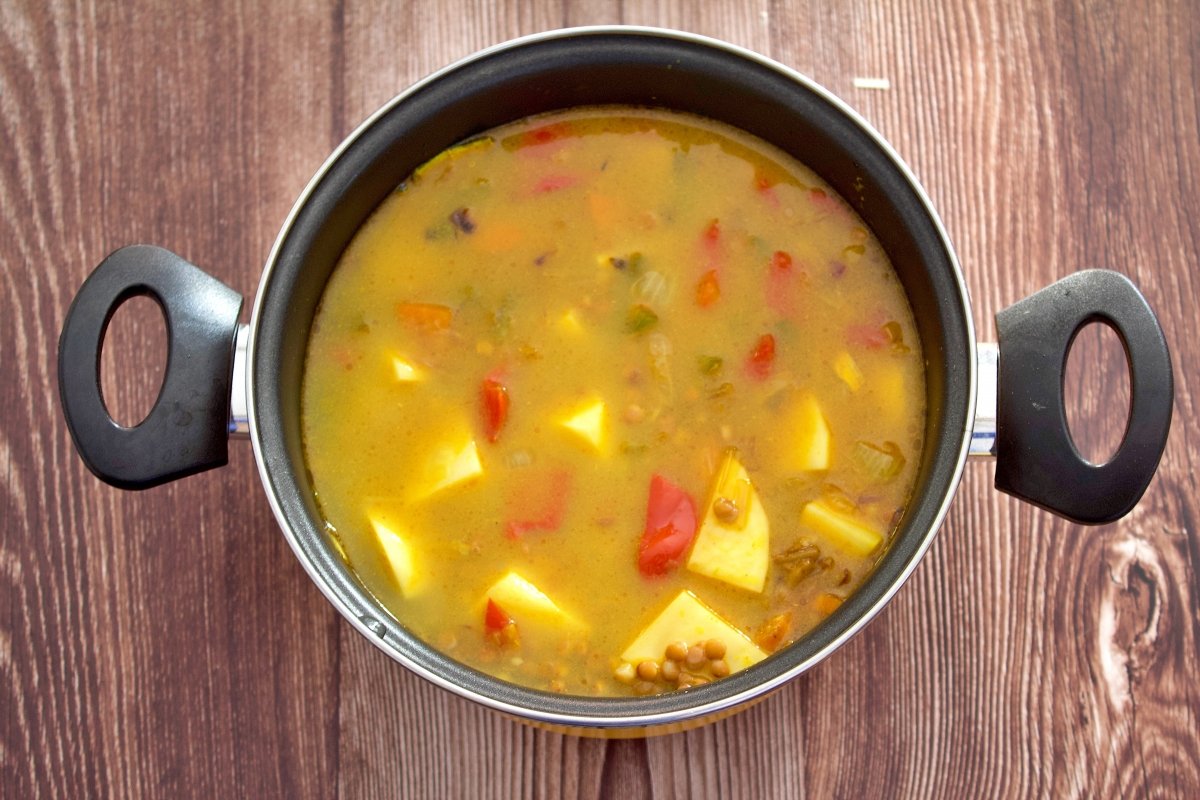 After this time we remove the bay leaf and grind until we get a smooth cream. Depending on the desired texture, we remove more or less broth. We correct the salt and when we have it ready we can serve it with a few leaves of chopped fresh parsley.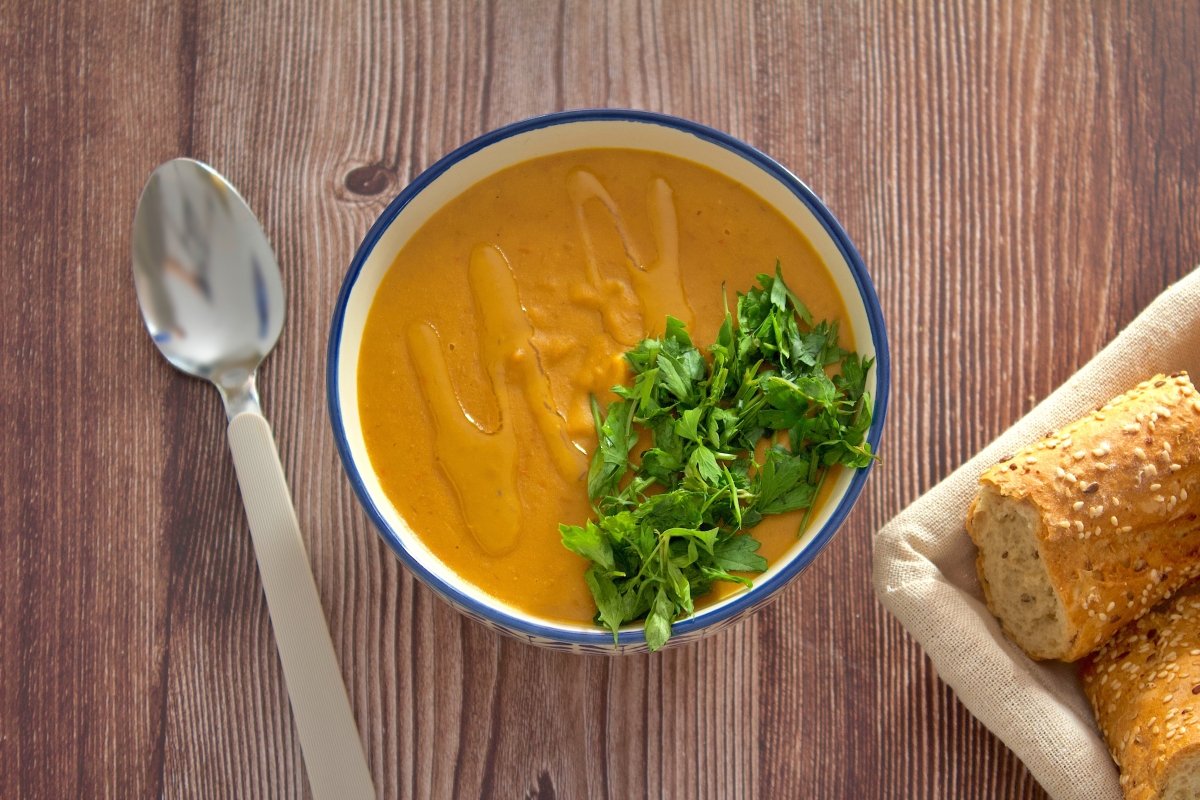 Simple preparation overview
Chop all ingredients: garlic, onion, leek, pepper and carrot

We first steam the garlic together with the onion and the leek

Add the paprika and carrot and sauté everything together

After poaching, add bay leaf, paprika and curry. Roast for about 3 minutes, stirring occasionally.

Add lentils, potatoes and vegetable broth. We cook for 10 minutes

When the potato is well cooked, remove the bay leaf and blend well until we have a very fine cream

Serve with some chopped fresh parsley