In Kalma stayed the service starts when you sit down. It can be, for example, with a vegetable soup with cabbage sauerkraut. In an intimate room in Ushuaia, between low houses and residential streets, Jorge Monopoli receives a maximum of twenty-four people per night at tables. The black tablecloths intersect with the white and gray crockery, for a game of simplicity that goes well with the width of the windows. With cava depending on the circumstances and excellent attention, the chef of young 41 years is available in the salon for compliments and requests.
"My grandfather was a cook for Perón", He tells us in passing when we ask him if he has a family history in the kitchen. "He was called Leonardo Stankevicius. He was the father of my mother, Juana Stankevicius. He had a very interesting story. His father died during the First World War, in Lithuania, and since he is a rich uncle he took him to France to raise him. Grandfather started working in his kitchen and that was how he met the Argentine ambassador to France, who took him as his personal cook when he was only 17 years old. He was a puppy! " Jorge remembers that grandfather who later, sent by the ambassador, returned to Paris to undertake the official career of chef at the Cordon Bleu.
"Then he disassociated himself from the ambassador and, in between, ended up as executive chef of the Palacio San Martín, which was a presidential seat at the time. He not only cooked for Perón, but he was also responsible for everything that was eaten inside. They organize frenetic banquets! " Jorge points out and tells that a few years ago he was at a wine tasting at the San Martín Palace, and was accompanied by his uncle, his mother's brother, who showed him the corners of the building where Ragazzi played. He lived there on Stankevicius while the father of the family cooked for the general. More? Grandfather – who died when Jorge was 4 – held a cooking show, With Leonardo in the kitchenand his mother from Monopoli was his assistant.
Born in Villa Regina, in the Alto Valle de Río Negro, Jorge was studying Geology in La Plata when, to have his own money, he started holding cooking workshops for children with Down syndrome. He taught them what he knew and what he liked, having grown up among cooks. However, he suddenly realized that the boys were learning a lot and very quickly: everything he knew how to prepare had already been taught to him. What did he do? He enrolls in the IAG (Argentine Institute of Gastronomy) and studies cooking.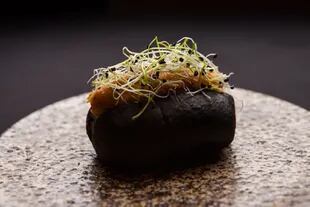 He tells it standing in the living room, as he comes and goes from the kitchen, always attentive to the service. He then he tells of having lived the extreme experience of six months in the restaurant of Hotel El Bulli in Seville, by Catalan Ferrán Adrià. "While studying at the IAG I got the vacancy for the internship. There were four of them a year. The hotel worked in Sanlucar La Mayor. It was a 10th century Arab palace that had been remodeled to accommodate people with the food tourism boom. It was a five star above all. On the menu they offered the best dishes of the season from the El Bulli restaurant. It was like being in the crème de la crème, "she says.
He also says he worked in El Calafate and Puerto Madryn until his arrival in Tierra del Fuego fifteen years ago. Twelve years ago Kalma Restó opened it, and so she baptized it in allusion to search for peace. His proposal is characterized by classic Fuegian foods and Mediterranean details with some innovations from different currents. There seems to be a lot of being meticulously on top of things on their plates, a lot of twists and turns and a lot of risk.
Far from the detractors of salmon, Monopoli serves it because it is considered a high-end fish, but always in its wild version: "the one that escaped from Chiloe and reaches the Beagle Channel". In carpaccio mode, the salmon serves us as a first appetizer and is a caress. Then it shines with a beetroot risotto with broccoli and cauliflower, followed by a new salmon, now cooked at 42 degrees – just -, and an emulsion of carrots, potatoes and mint, with rocket. Here the channel salt crystals provide rigor. A surprise to close: a nice and renowned place crab hotdog with cuttlefish ink bread small size.
For dessert we celebrate the Corinth mousse – red currant – with chocolate. But much more, a classic by Kalma Restó that remains imperturbable on the menu – "it's the only thing that never comes out" -: ice cream with chocolate crumble, whole almonds and glasswort, on olive oil and more chocolate. A perfect combination of textures and flavors so diners promise to come back for it. And yes it works!
Kalma Rest. Governor Valdez 293, Ushuaia, Tierra del Fuego. T: + 54 (2901) 425786. Few tables, modern atmosphere, refined dishes and excellent wines. An invitation to let yourself be carried away by the ingenuity and creative instincts of Monopoli. They are open Monday to Saturday from 7pm to 11pm. They close in May and June for the low season.