Total:

45 minutes


diners: 4
There are some light recipes that are very tempting at certain times. After so many days spent eating away from home, by the sea or in the mountains, after days of summer excesses and lots of ice cream, suddenly you want to detoxify. The body requires it and vegetables will be your best allies, in many different preparations but which do not carry unnecessary loads of fats or carbohydrates.
On this occasion the proposal revolves around a delicious vegetable soup from the garden, perfect for the days when you want to eat lighter but without sacrificing taste or interesting counterpoints such as those provided by cheese pearls Mozzarella cheese. Here there are no sofritos, neither poached, nor anything else that looks like it, here is a basic vegetable broth that can be prepared with the vegetables that everyone has at hand, and another second broth of this first in which the vegetables they are already cooked to the point that they will then be enjoyed in the soup itself.
Undoubtedly, this basic recipe admits many variations and many evolutions, such as a vegetable soup with pasta, a vegetable and legume soup Minestronea spicy Chinese soup or a Chinese soup phobo Vietnamese, a beef soup that in the middle of the Vietnamese summer helped me a lot to fight the humid heat of the country. Of course, to our soup today we could add some chicken, some pieces of fish, even a poached egg or rice to finish.
The ideal for this soup is to eat it at the moment so that the vegetables are crunchy and season them according to the taste of each. We could add a few drops of lemon juice, soy sauce or even honey if we wanted to give it a sweet background. The colada, like a broth, will be used to warm us at any time. Of course he also accepts tomatoes inside, peas, asparagus or even parsley.
How to make summer soup from the garden
ingrediants

Green beans, 200 g

Broccoli, 150 g

Radishes, 8 units

White courgette, 1/2 unit

Green onion, 2 units

Branch of oregano, 1 unit

fresh mint, 1 sprig

Salt, without

Ground black pepper, to taste

Mini mozzarella, 16 units
For the first broth
Green onion, 2 units

Tomato peel, broccoli peel, potato peel … whatever you have on hand.

Small turnip, 1 unit

Green bean husks, the ones we have.

Salt, without
Step 1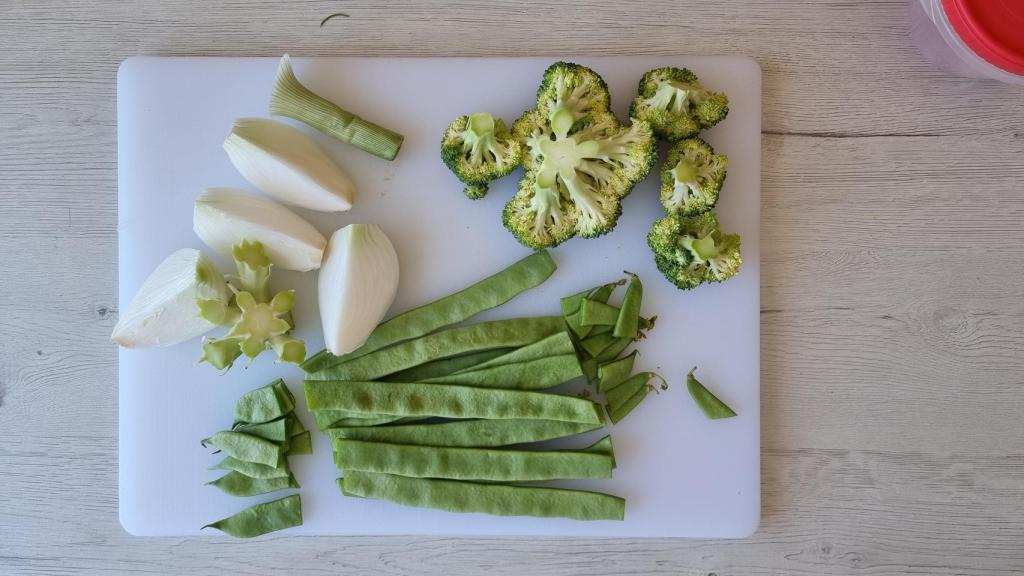 Wash all the vegetables that will go into the broth so that they do not have traces of soil. Chop it on top and put it in a pot with plenty of water. Here we can put all the leftover vegetables we wanted to use: potato skins, tomato skins, broccoli skins. All this adds flavor to the broths and serves to reduce losses and make the most of everything. For example, if we are going to use very small chopped green beans for the soup for the starting broth, we will use all the ends and skins.
Step 2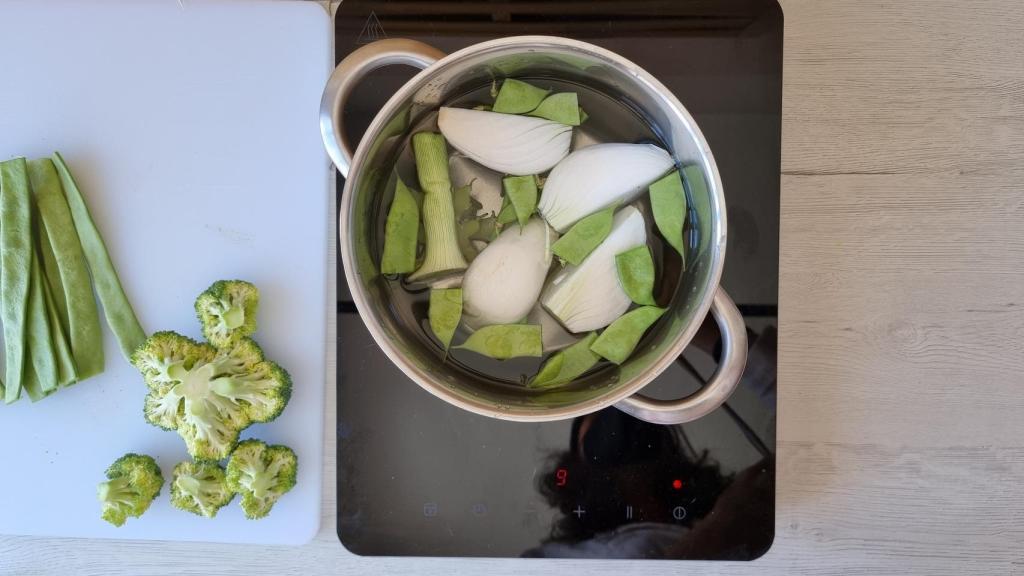 Bring the broth to a boil and cook for 30-60 minutes until you have a good base. Drain and season with salt.
Step 3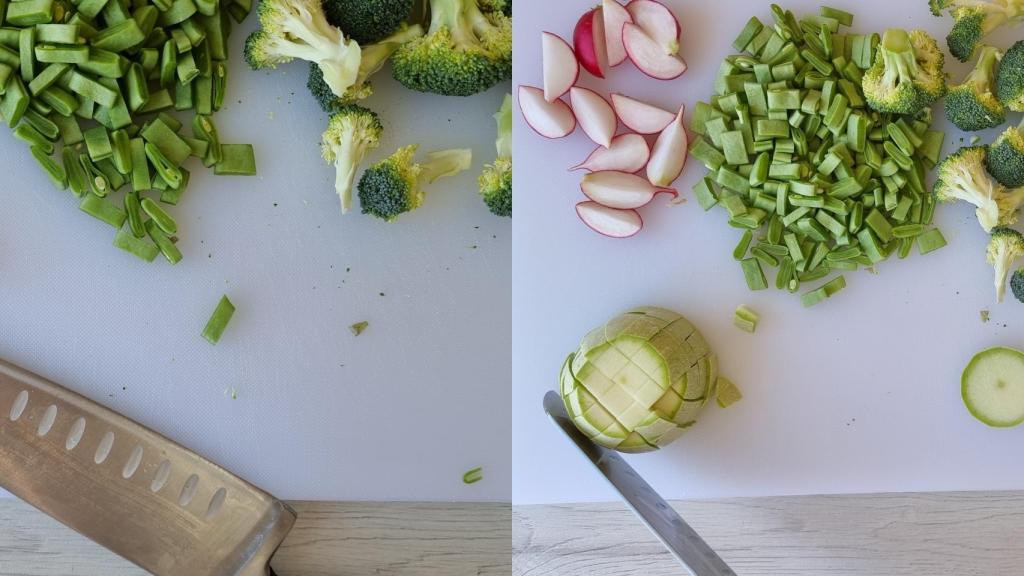 In the meantime, chop the broccoli into florets, very finely chop the green beans into julienne strips, the radishes into quarters and also the courgettes into cubes.
Step 4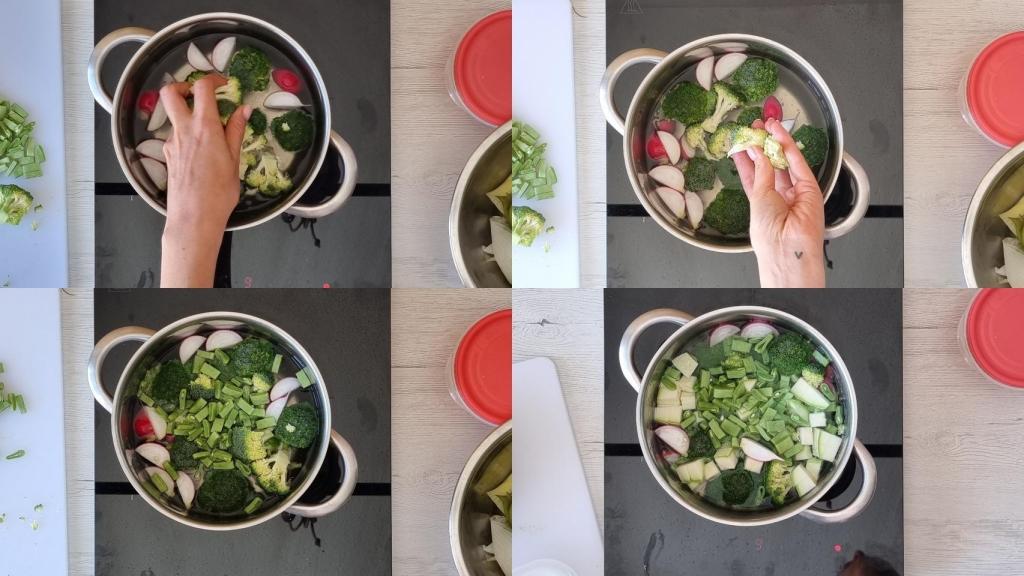 Boil the vegetables in the broth at the right time: first the radishes, two minutes later the beans and broccoli, and two minutes later the courgettes. Cook another 4 minutes until it is all al dente. In the last two minutes, add the herbs and, if you like, any other condiments such as soy sauce, lemon juice or spices that we like.
step 5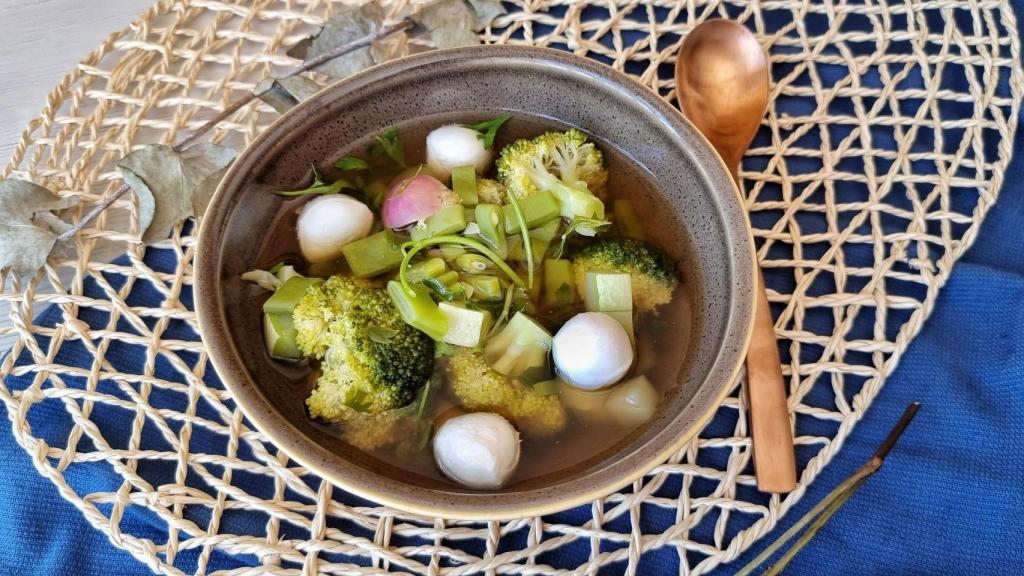 Season with salt and black pepper just before serving and, once the soup is in everyone's bowl, finish with the cheese balls Mozzarella cheese inside each so that they temper with the heat of the soup and melt slightly, resulting very creamy.
Follow the topics that interest you
.